About College
---
Bangalore College of Engineering and Technology (BCET) is one among the teaching and research Institutes. The Institute strives towards providing education that inspires students. This 20 year old institution that comes under COMEDK and CET Karnataka. BCET is affialiated to Visvesvaraya Technological University (VTU) belagavi, approved by AICTE New Delhi and recognized by Government of Karnataka
Bangalore College of Engineering & Technology (BCET) was founded in 2000 by Bangalore Educational Trust to impart quality education in a stimulating and innovative environment where students are empowered with knowledge and professional skills while upholding the values of integrity, tolerance and mutual respect. Since its inception the Bangalore Educational Trust has promoted education in the areas of Engineering & Technology, Nursing, Edcation.
Highly qualified, well experienced & competent research oriented faculty, motivating and creating an environment for students to develop their skills and strengthen their knowledge. The strength of BCET lies in its choice of faculty members, all of whom have vast experience in addition to enviable academic qualifications; faculty members are into research which helps them in creating knowledge and delivering the same to students. This makes the institution academically vibrant.
Chairperson's Message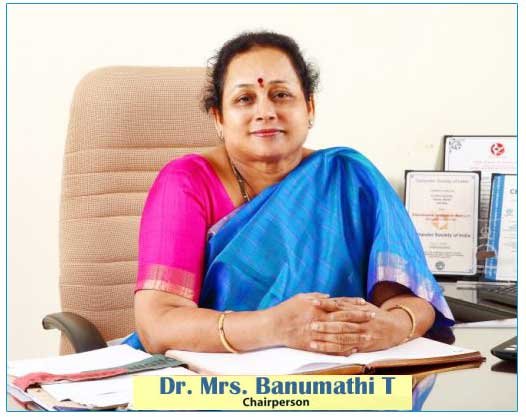 BCET has a distinctive mission and history that set us apart from other institutions when we started Bangalore Educational Trust almost two decades ago. We envisioned a new kind of academic institution-one that could put it, "serve the times and the nation's needs."
Our efforts for innovating curriculum, percolating research culture, supporting our innovative student teams and upgrading our infrastructure with a vision and commitment to move further on the pathways of excellence perhaps is what made BCET to climb to be a top class institution in the region. It must be highly satisfying that our stake holders namely, the Industry, Government and the people in the community have acknowledged their recognition of the spirit of excellence of our institution as it is truly reflected in our endeavor to provide value based education.
Faith in the name of our institution, the Government and the society recognizes the value of goodness that is cultivated in this institution in plenty by its students, teachers and all those who are part and parcel of this institution. I am sure our achievements will make feel everyone of us proud. Our alumni here in India and abroad will feel proud of our achievements and this must invigorate our mind and soul to commit for even higher levels of achievements in the ensuing years.
Dr. Banumathi T, Chairperson
Dr. Channankaiah, ME, PhD
Principal
Our mission
---
To foster BCET as a centre for nurturing and developing world class Engineers and Managers who convert global challenges into opportunities through value-based quality education.
Our mission
---
To impart value-based quality education through effective teaching-learning processes. To continuously develop and improve holistic and innovative personality for global mobility.
Objectives
To create sustainable teaching - learning process in all academic units that promote pedagogical innovations.
To transform students by facilitating holistic personality development and sustenance of talent.
To nurture higher commitment towards learning, research and creative thinking among students and faculty members.
To enhance industry-institute relationship to accelerate students' industry readiness.
Core Value
Meeting community and student needs by creating an educational environment and culture so that the students can attain a variety of goals.
Maintain a high standard of integrity and performance leading to the achievement of academic and professional goals.
Seeking input from all sectors and the stake holders of the college and the community.
Serving enthusiastic, independent thinkers and learners striving for personal growth